11/06/2020

Written by: Marisa Sheff
Marisa Sheff, founder of Sock Footage, recently got in touch with Good&Kind to share the story of her business and how they're encouraging acts of kindness in a time of crisis.
A simple act of kindness
At Sock Footage, we have a mission; to empower individuals to engage in acts of kindness as a by-product of simple, everyday sock purchases. Most people are unaware that socks are the most needed but least donated items at homeless shelters. With COVID-19 silently making its way across the nation, the homeless community is amongst one of the most vulnerable population groups, and is in need of support now more than ever. As such, for every pair of socks purchased from the website, a complimentary donation pair is provided courtesy of the brand.
We are hoping that this free pair of socks will help consumers feel like they are able to give back despite their current self-isolation status. We are excited to announce that we are continuing to deliver socks to one of our partner charities, Ve'ahavta, who have a mobile outreach van distributing much-needed supplies to those living on the streets in the Greater Toronto Area. We truly believe, and have witnessed first hand, that being involved in the donation process has the power to change a life, whilst touching the lives of those in need. The bonus for those who are currently stuck at home, is that they still get a fun and colourful pairs of novelty socks delivered, to hopefully help brighten up their day.
By encouraging people to share online footage of their newly purchased socks using our hashtag, #PAYITFOOTWARD, we are confident that they can help bring much needed awareness and attention to the growing concerns surrounding those living on the streets.
As a Toronto- based company, we have been piloting our first charitable sock vending machine at Ryerson University, located in the city's downtown core. You can click here for a live CBC radio interview highlighting the company's mission and to hear more about our charitable sock vending machine.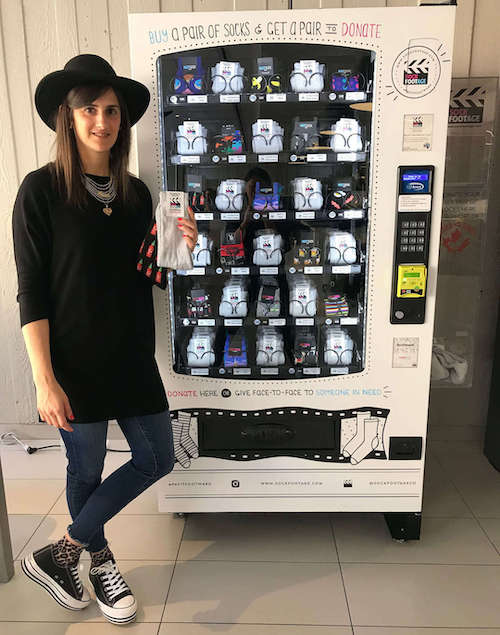 Please check us out at www.sockfootage.com or on Instagram (@sockfootageco) for additional information.